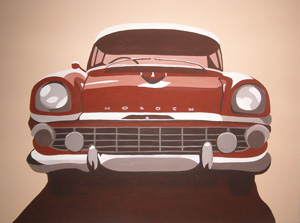 The car is important as it is such a big part of all our lives. The "Car Features" series continues the love and fascination of cars and reveals the front view of old cars.
This latest series of paintings came about from observations while stuck at traffic lights and extensive periods behind the wheel, noticing that the oncoming cars appeared to take on a human like quality.
These cars had a face and character – the headlights as eyes and the bumper bar a mouth. The form of the object easily identifiable, simplified and earthy colours are used giving the work a distinctive look.
Artholes Gallery presents a group show of paintings by eight artists:
MEGAN MCDONALD, MICHELLE HARVEY, MARK DI MARZIO, MICHAEL CLEARY, MATTHEW WATTS, LIBBY BYRNE, D.M ROSS and DALE COX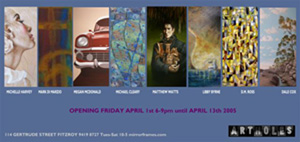 Opening Friday April 1st 6-9pm until Wednesday April 13th 2005. 
Artholes gallery  114 Gertrude St. Fitzroy
Gallery hours Tuesday to Saturday 10-5